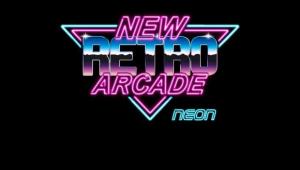 About late 2014, I saw a new frontend on my facebook feed, this was the first version of NewRetroArcade, my curiosity was peeked. So I downloaded the package and installed it onto my desktop (my this point I will remind you I was using this on my old 7 year old potato). I ran the program and I was greeted by a corridor, which ran at about 15 fps and I blame the fact I have not upgraded my machine is something like years but the premise was there a walk around experience which gave a player a look around a small arcade with extra things to do.
You could find tapes and play them in the boombox radio (this could be editable)
You could actually tune in to the online radio station (preconfigured by the developer to 80's style music)
You could play Darts, ten pin bowling or shoot hoops in separate games
Almost everything was able to be picked up (bottles, cigs, phone's, tapes and gameboys (yes there were playable gameboys)
The Arcades where quite detailed.
Please bare in mind this isn't my first rodeo when it comes with 3D environments for gaming experiences. but this felt the most complete and right now this does set the tone to anyone following this experience. That was the classic version which when released on steam became the Tech Demo. They didn't change a thing. So why are they selling the experience for 35 bucks, well a few reasons actually. The Demo was the to simply wet the appetite and boy did they. while it introduced new people to a arcade experience, to the veterans, including another developer who I often speak with. When I covered this a year ago, the whole project was designed by 5 guys who were learn how to use unreal 4. To me this a mixture of passion, craziness and sheer brilliance, while the concept has been done before on other engines, this one stands out because it looks stunning with the lighting effects and the level of detail in the surroundings. Despite all the praise, I will nitpick about the control panels a bit for being a tad generic. other than that, that's about it. if you don't believe me just have a look

  That's just a load of skinned arcade machines. while the models are limited to 2 or 3 styles, the artwork could be added quite easily with the use of paint.net or gimp or even photoshop. it's interesting because to counter the copyrighted artwork they did a lot of generic artwork and screencaps to put as placeholders and when you first look round you think what the hell. Ok you have downloaded but where are these arcade games you are on about. you are forgetting the first rule of emulations in itself, you CANNOT distribute Emulators and roms in the same pack but to anyone here, this isn't that hard to locate the roms, But Jack, it still doesn't work, What is the problem here.
First off, the emulator built into NewRetroArcade is Libertro (retroarch), thats right you need the cores for said emulators, and the roms. now the interesting part, where is each system going. you need to go into the arcade builder

Yep, this thing, which is not that difficult to set up. while this picture is a little dated because they added an actual emulator to use as well in NEON, this is pretty much everything you use to configure the classic and best of all you see that pink circle in the picture, that is where you will find the machine you select to be in that position.
Right that's enough of the classic map so what do you get for 25 bucks apart from this demo. Good question? and having recently refunded no mans sky after no engaging me in the way it was suppose to and the frame drops killed my mod I decided to get this for me and my best friend (jennatek). Right now we both went into a multiplayer session. Yes first case and point it's multiplayer a good start, second thing is the intro screen

Why does it look like an 80's version of the matrix, simply put I think that was the point being the design choice (this was designed for the vive and the dk 2 also but runs just as well on a simple setup). with this intro screen you are greeted with 6 options
Single player
Multi player
Options
Custiomise
Credits
Quit
All pretty self explanatory with the exception of customize, Customise is an other in the multiplayer to have an additional item on top of you virtualboy (ie a hat or cap. It looks weird but it serves the purpose to distinguish between the players. While there are limitations to the emulation currently ie. netplay. you can play some of the custom games which are available like aimbot which is a like a fps cross between doom and goldeneye64. There is also a house of the dead clone in the VIP room with the playable SNES clone (original model and the gameboy models were changed to avoid Nintendo NAZI approach to gaming in general, which is a shame because those models were amazing) but with the classic map we got this.
A new arcade which is a little bigger than the classic build and they also added a lot more activities to do as well as the 3 main one from the classic arcade that being air hockey

In this room alone with the air hockey, have the zombie problem 2 arcade (their own minigame which is a homage to house of the dead) there is a guitar and a min drum machine in here too. There are quite a few distraction before you configure the arcades themselves like the one punch machines you see, also the whack a mole as well. the map is a little larger and left a couple of easter eggs also near the bar ( if they are crazy enough to do that ). The emulation side of this especially the lighting issues for the gameboy was particularly impressive (yes I had 2 gameboys to play multiplayer with friends with) and the fact that a dot matrix screen with no backlight (which is why the gameboy had a 25 hour battery life compared to the lynx and the gamegears measly 3 hours of battery life. This is not a game but a VR experience which for us arcade buffs which is an experience. Is it worth 25 buck for me person, yes it is but for the casual I'm not so sure, but who knows I give it a shot. 
Jack, is there anything you would love to see out of this project, yeah steam workshop support for starters. To help with arcade cabinet construction and maybe some new maps. Better netpay with emulation but that's more to do with libertro rather than newretroarcade. Finally a video guide but I know my good friend SimplyAustin is thinking of doing one sooner or later.
I would recommend this if you enjoy walking around arcade in a VR environment. Setting it up is a little tricky and finding the artwork is a bit of a challenge but I will help you as much as I can via SimplyAustins channel when I pass the helping hand to him. anyways remember when I said this wasn't my first rodeo into 3D environments. For that you can read the next part of this.
Edited by jackhammersalm