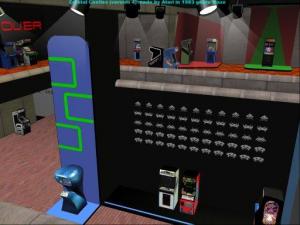 A little history lesson
I got my first major PC build in 2003 which I bought the parts off of a friend and then built the system. I was heavily into retrogaming and emuation back then in between playing MMO star wars galaxies and various PC games I acquired via any means. I was always interested in frontend. Jennatek and I have been friends for about 20 years and I value her opinion. She pointed me into the direction of my first frontend which was via arcadecontrols.com 3d arcade

Let me point this out right now, the community for this is not as bustling as it once was as development died a few years ago when director was not longer updated. designed during the XP era, this frontend was quite unique as it was the only one of it's kind and the developer, plus a group of crazy but very talented artists and modellers showed the world what was possible. While it looks impressive there were gaping big problems with it as well. First the configuration of this made Hyperspin look like a piece of cake. The way this was presented in it's read me was a playlist of playlists. Which made no sense at the time. but I got some stuff configured but the cabinets look all generic without artwork well the other problem was also it's biggest strength and that was the individual and unique arcade machines they had created on their system. Another advantage is the use of difference locations. 
For instance, the Time out Tunnel which had a it's own little sub corridor for effect



The level of detail back in 2007 to 2009 was spectacular in their arcades. the other advantage was the use of multiple emulators like Mame. Kega, BSnes, Visual Pinball with Pinmame before the whole project was merged with MAME. But walking into this out of the box was a REAL! learning curve. But you have 6 or seven different locations. These systems used a either a screen videos or screen cap to show what was playing and also the name of the marquee which if you had the extras for would show the actual marquee file said file (Hyperspin's wheel art would do just as well here if not a little better). But there are a lot of reasons why this should would well but really didn't for me.
First off, the configuration tool was a real nightmare to use because it made no real sense it took me 2 years to properly learn how to use it, even then I didn't scratch the surface. There were a lot of parameters to fill in which also made it quite detailed for the time. But after a few years you could have got a DVD edition which included the marquee files and everything EXCEPT roms. But has time went on and during one of the website downtime sessions which happened once a year for 2 weeks on this occasion, I went elsewhere which lead me to my home on Hyperspin. But I never forgot my roots.
But before that development was slowly dying because )p( had really left the group to pursue real life things like watching his son grow up. So development had stopped for the system itself but it didn't stop there, by my last count there are 18 different locations and something like 400 plus different arcade models to play with plus skins and various other options. Everything is skinable to a degree and it shows with some of the arcade skins for the pinball tables which had a generic table which could be skinned. Perfect setting for that was the Derino's damned dungeon in which you had a large winding arcade which showed off the capabilities of the frontend also.
while the video shows just basic arcades its only when I added the actual models to extra effect when you see the sheer scale of the and you can see the the difference with just a few cabinet (while my video is crappy with a bad mic) the video just shows what kind of frontend 3D arcade was. it waas ahead of it's time. so why did it fail so much it didn't for a which because it had a wow factor which everything from GameEX to AtomicFE tried to do differently while both are functional (well GameEX was functional and AtomicFE Crashed on me a few times and I gave up with it).  After 4 years of trying to go back and trying to configures this thing again, during one of the sites downages (due to Mameworld going for a name change to .info). I started looking elsewhere and which finally lead me to my home of Hyperspin which I am a valued member. However I didn't give up on this project. it had a DVD release also a few new arcades locations added (which included Flynn's Place from Tron which was in it's 3rd beta according to the forums). While the forums have a few hardcore members, it's not as bustling as it was circa 2007/2008. 
This brings me to my second introduction
THIS IS

Well about 2 to 3 years ago, I found this project somewhere and it was called Smarcade Anarchy edition and it's developer made this in the source engine. While it has limitation, it has proven it could hang with the big boys. He tried to kickstarter this and he wasn't successful, while he could sell the product because the money for a source licence is something like $10,000 so he released it for free. This isn't like the first Frontend, which specialized in console and arcade stuff. This is more of a Visual Desktop which you could customize the rooms to tailor your tastes. Everything is editable and I mean anything. it's a bit of a learning curve but once you got everything it's rather simple to edit everything and anything
don't believe me just look at : WheresThePunch
Video
Unlike 3d arcade this both a VR experience and a visual desktop. I was and still am impressed with this frontend as it's specializes in virually everything and you can set games and video even youtube and MP3 files to different Items which can act as links to said programs or files. Adding files and taking them away are easy compared to something like 3D arcade. It was interesting but there are issues with it but not that many. Why did it not succeed in the kickstarter. Simple lack of publicity and not enough word of mouth. But it's a free app and its not difficult to pick up so give it a look.  By the way, Steam workshop support is second to none here and the just look at their website themselves.
OK this leaves me to the latest member of the 3D environments with

That's right I've just covered this and this is a frontend with a few extra minigames. This started life as a learning experience for a 5 man development team which later called themselves DigitalCyberCherries. The concept was simple, to have an arcade environment which was reminiscent of old fashioned arcades. Designed as a VR experience and it was a good experience, but while Anarchy arcade failed to garner support, DigitalCyberCherries wet the appetite of various members of community of emulation. I have reviewed it in my previous article I would look at that. But despite being 25 buck for just 2 maps and a configuration setup which is simple to use but you can see where this experience going. While the earlier version of this have copyrighted material and if you have original 2.0 and 3.0 of newretroarcade I would get those models there and look into the discussions where you can find some marquees and sideart. Personally this needs to have steam workshop support.
if you don't believe me that this hasn't got potential just look at simply austin's video
This shows some of the artwork changes Austin actually made change within the experience in which he added some actual marquee and CP artwork which showed a different system control there. There are generic joystick setups. but you get the experience. while the VIVE needs some tweaking on it's controller system. The reports that the left controller which controlled the directional controls doesn't work well but that's for VIVE users who use the motion controls.
anyways that's enough of the little history lessons from my personal view, If i have missed anything please don't forget to mention it in the comments anyways time for me to head off and start something else.
Edited by jackhammersalm