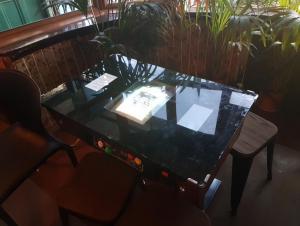 While emulation is the primary source of news here, there are times we need to see that retrogaming is very much alive and a social event, earlier tonight I went to the Secret Weapon in Stratford east London. OK the Secret Weapon is a gamer's pub, yes that's right, a gamer's pub. Which is a rare thing in east London but I hear there are 2. But this appeared about 2 days ago on my Facebook stream, I looked at it
https://www.facebook.com/events/1652471658404314/
So I went earlier tonight and I wasn't disappointed. It's a surprising change because I know my gaming event. First off the first thing I ever noticed, was an old Cocktail machine working (running an Icade board)

Granted it an old Galaxian machine but it was working with a working coin mech.
The pub in question is formerly the princess of wales in Stratford (a place where I grew up). it was shut down about year ago and about 9 months ago it was rechristened the "SECRET WEAPON " why I never knew until tonight. Gamers have started to take over the old pub scene and "SECRET WEAPON" is the second such pub I know (their first one is in Dalston which I will adventure to another time) but this was my first gaming meet. this little evdeavour was started by its' organizer about 6 weeks ago and cost me 5 quid to enter (included a free drink in my case it was a cider) 
I did a quick periscope of the show but I know it will only last a month
[video]https://www.periscope.tv/w/1ypKdoDPmgaxW[/video]
that was a quick tour of the place but I will be looking to attend more without the interference of family commitments (yeah like thats going to happen) but I've got a couple more pictures to show you. But my periscope was really first time I've ever done it properly for gaming related news. Other Photos include


 I may have been there for an hour but in that hour I saw a a different world in which my friends would happily go to. While the consoles are ranging from XBOX and PS2 and SNES it paints a good picture of my social life in East London.
Tell me what you think....