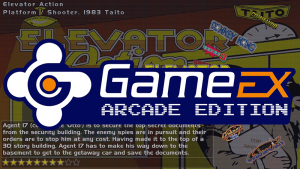 Introducing GameEx Arcade Edition.
GameEx Arcade Edition is a derivative version of GameEx that is optimized for arcade controls and machines.
It is lighter, has cosmetic improvements and supports the new EmuMovies video themes.
It supports MAME and arcade systems and has the following feature differences over the normal GameEx version.
GameEx Arcade Edition notable features:
Supports video themes.
Less code. Lighter. Less options.
Optimized cosmetics for TV and arcade displays.
Good support for low resolutions (640 x 480) out of the box.
Does not look like windows. Does look a little like HyperSpin.
The video themes and all the content is available at EmuMovies and an automatic downloader is included with the front end.
Edited by tspeirs