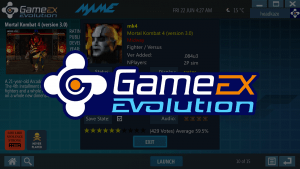 Proudly presented to you by Spesoft in partnership with Headsoft and FlashBang Studio.
Some of the features you'll see in v1.01:
*** Features ***
Pre-configured system profiles for 200+ emulators
3 default themes (Default, Blue and Black)
Supports multiple orientations and aspect ratios (4:3, 16:9, horizontal & vertical)
Multiple list display modes (List, Grid, Page, Carousel, Wheel and CoverFlow)
Multiple game lists (All, Completed, Favourites, NextToPlay, Played and RecentlyPlayed)
Databases for every system
Auto emulator app and asset download
Full system auditing and game list editor
MAME Software List support
Advanced MAME filtering system (Genre, Category, Manufacturer, Year, Orientation, Rotation, Controls, Players, Buttons, Alternating, Mirrored, Service, Tilt and Cocktail)
Advanced System filtering (Publisher, Developer, Year, Category and Players)
Other Filter Flags (File, Video, Region, Language and Media)
Advanced emulator launch and logging system
Steam game import
Stats (LastTimePlayed, HasPlayed, HasRecentlyPlayed, HasNeverPlayed, TotalTimePlayed, TimesPlayed, HasCompleted, IsFavorite, IsNextToPlay)
2D & 3D object support
32 and 64-bit support
Frame-based animation
Theme skinning system
Bitmap font support with editor
Extensions (including scripts and plugins)
Advanced variable system (all accessible via your custom Extensions)
Write your own Extensions in C# or VB.NET, Have access to Evo libraries directly!
Free extensions including hardware support for UltraStik, ServoStik, LEDWiz, PacDrive, U-HID, Blue-HID, Nano-LED, PacLED64, I-Pac Ultimate I/O, BetaBrite etc. All open source!
Command.dat support (Fighting game move lists)
Built-in manual and asset viewer
Auto image mounting
Much, much more!
 
*** Q & A ***
Q: Why did it take so long?
A: This has been a long time coming and that's because we've spent extra time adding the features you wanted into the next evolution of gaming front ends!
Q: Who created it?
A: This is the most advanced FE ever written by the best in the scene. In development for over 5 years by coders with over 25 years in FE and arcade app development combined!
Q: Why did you create it?
A: This is a creation born out of love and passion for the retro arcade and emulation community. The cost was great but it's our gift to you and this is only the beginning!
Q: Where is feature X your promo video promised?
A: We have included every feature we promised except for the Theme Editor. It's still in production. Let us know if you're interested!
Q: What about native HyperSpin theme rendering?
A: It's in there we just don't think it's that important. We're not trying to be HyperSpin but we're fans of the project – hi Bill!
Q: What about RocketLauncher?
A: While we think it's a pretty cool project we think if you're paying for a FE like ours it should all be integrated. That's why our Setup Wizard does everything! No 3rd party tools required!
Q: What's the future of GameEx Evolution?
A: Very bright! But we need your support and for us to succeed we need your help to get the word out. So don't just sit there, tell everyone the good news!
Q: I need help or have a question!
A: Great! Please visit our GameEx Evolution Forums
*** GameEx Evolution is: ***
Developed by Headsoft (headsoft.com.au)
Ben Baker (Headkaze) [Code, Design and Artwork]
Published by Spesoft (spesoft.com)
Tom Speirs [Sales, Code, Testing and Support]
With Help from FlashBang Studio (flashbangstudio.uk)
Michael Ware (Greatflash) [Database, Code, Artwork, Testing and Support]
And Hanka Design (hanka-design.com)
Markus Hanka [Logo, Early UI Design Prototypes]
Full Credits: gameex/com/evo-credits
*** Thanks ***
Also thanks to our staff for all their amazing and continued work on our forums over the years:
Adultery, Carny_Priest, DazzleHP, Draco, freezy, GimmeClassics, hansolo77, nullPointer, rablack97, RedDog, stigzler, Tempest, tthurman and zeenon
Download GameEx Evolution here